Happy Sunday, everybody! I'm linking up with this Sunday Style link-up today - fun!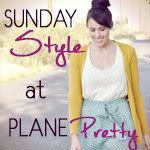 Shirt: Forever 21 ($4.00)
Skirt: J. Crew (Thrift Store - $1.50)
Scarf: Marshalls? Ross? I don't remember... (???)
Shoes: 6pm ($10)

We went to church early this morning, which meant getting up early in the morning, so it was freezing. I stuck on a warm red jacket (not pictured here...felt too lazy to go and grab it. ;-)
I felt so fall/nautical/preppy today! First time I've ever worn this outfit, but it certainly won't be the last. I think I'll wear this to my classes Tuesday...
Speaking of nothing in particular, did I mention I'm turning 15 1/2 in about 2-2 & 1/2 weeks? I'm starting Driver's Ed in a few weeks, too...I'm so excited about getting my permit!
My little bro is urging me to get back to work on the puppet show we're putting on tonight, so I'd better vamoose! Happy Sunday everybody!
P.S. As always, have to thank my mom for taking pics for me. Love ya, Mom! ♥